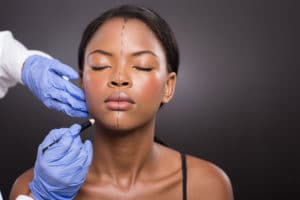 Strong jawlines and defined chins have been considered attractive, alluring, and desirable for centuries. For people with understated chins or disproportionate jawlines, chin implants, chin reductions, and chin augmentation are all excellent ways to bring balance to the face.
Here at Soma Plastics, our board-certified and experienced surgeons provide superior chin implants in Beverly Hills. Continue reading to learn more about the mentoplasty procedures performed at our clinic or contact us today to schedule a consultation.
Beverly Hills Chin Implant Procedures
We are located in Beverly Hills and are one of the leading chin implant surgery providers in Orange County. Our professional and caring physicians help thousands of patients develop their ideal chins through specialized mentoplasty procedures and state-of-the-art technology.
Our chin plastic surgery techniques can increase the size of your chin or reshape the chin to bring symmetry to your face. We also take pride in helping patients correct Microgenia, as well as those suffering birth defects, skin deformities, or other defects inflicted by accidents.
The patient and gentle doctors here at Soma Plastics care about you, your story, and helping you achieve the chin and jawline you've always wished for.
Benefits of Our Chin Implant Procedures
In addition to peace of mind and improved self-confidence, the benefits of chin augmentation also include:
An improved profile and a face that looks wonderful from all angles.
A strengthened jawline that enhances your inherent femininity or masculinity.
A more confident and attractive appearance.
Permanent results that last a lifetime.
Our physicians deliver these benefits by listening carefully to your needs during a one-on-one consultation and then creating a customized chin implant or augmentation plan to create the chin you'd like. Depending on your situation, we may recommend one or more of the following techniques:
Extending a recessed chin to eliminate the appearance of a double chin.
Using augmentation to create a stronger facial profile.
Bringing symmetry to the face via a combination of chin surgery techniques.
How Long Does a Chin Implant Take?
Our chin implant procedures are performed at our Beverly Hills facility and generally take between 45 minutes and 1 ½ hours to complete. The length of your chin augmentation depends on several factors, including the exact procedure being performed, the kind of anesthesia being used, and other factors.
What is the Chin Implant Recovery Process Like?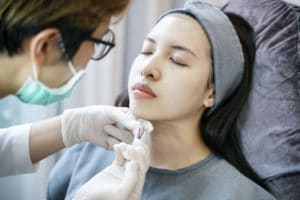 Fortunately, the recovery from a chin implant is fairly quick and patients are usually back to work after only one week of recovery time.
There will be a moderate amount of swelling immediately after your procedure, with swelling spreading up from your chin to your cheeks and possibly under your eyes. To help soothe the swelling, we recommend putting crushed ice in a towel and holding this against your cheeks for short periods of time.
The swelling will peak between 48 and 72 hours after the procedure and will start to dissipate from there on, with the majority of visible swelling completely subsiding within 2 weeks.
You will need someone to drive you home after your procedure and we recommend that you arrange to have a friend or family member stay with you for at least one night after your surgery.
There are certain lifestyle factors, like diet and smoking, that can affect the recovery process. Before the surgery, your doctor will tell you which medications and foods to avoid before your chin implant and during the recovery. He may also ask you to refrain from smoking for a certain period of time before and after the surgery.
What is Chin Augmentation?
Chin augmentation (also known as a mentoplasty) is a plastic surgery procedure used to enhance the size and improve the symmetry of the chin.
There are two primary chin augmentation procedures, and these are:
Chin implantation. A small incision is made either under the chin or inside the mouth. A chin implant is inserted through this incision and attached to the front of the jaw bone. This procedure enhances the size of the chin and is used to correct Microgenia or help those with understated chins.
Chin reduction. Instead of making the chin larger, a physician performing a chin reduction will use specialized tools to shave excess bone from the chin. This reshapes the bone, creating a stronger jawline and more balanced chin for those suffering from Macrogenia.
Who is a Good Candidate for Chin Augmentation?
The short answer is that anyone who is unhappy with the shape of their chin is an ideal candidate for either a chin implant or chin reduction procedure. Here at our Beverly Hills mentoplasty clinic, we provide chin enhancements for people from all walks of life and with many different motivations for requesting this surgery.
Examples of people we treat include:
Victims of facial trauma due to accidents or combat
People who were born with facial defects
Patients who are experiencing bone restoration due to aging
People who are transitioning
If you're wondering if getting a chin implant surgery is the right step for you, we'd encourage you to schedule a consultation with one of our Beverly Hills chin augmentation specialists. We'd be happy to answer your questions and explain the surgery options available to you.
Are There Non-Surgical Mentoplasty Options?
If you are looking for a non-invasive chin implant procedure, the good news is that you do have some options. The most popular non-surgical chin augmentation option is chin fillers.
Instead of installing a chin implant with surgery, chin fillers inject an augmentation material into your chin. Common fillers include hyaluronic acid and calcium hydroxyapatite preparations.
One downside of choosing chin fillers is that the results are temporary and only last for a few months or years. If you want permanent chin augmentation, then you'll need to schedule a chin implant surgery.
Best Chin Plastic Surgery Clinic in Beverly Hills
Boost your confidence and take the first step towards a more attractive you by scheduling a chin implant consultation with one of our mentoplasty surgeons in Beverly Hills.
Our caring and expert physicians provide a luxurious plastic surgery experience and would be honored to help you create the chin and jawline you've always dreamed of.
Before & After Gallery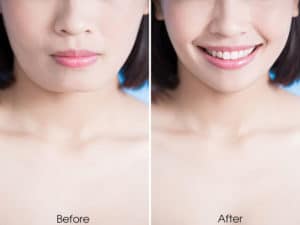 Face Procedures