What is this procedure?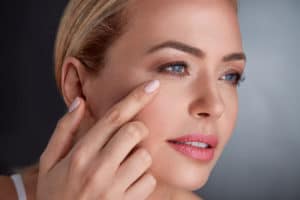 Laser skin tightening is a minimally invasive, non-surgical process that uses an infrared light source (a laser) to tighten skin by heating the collagen under the skin's surface, causing the skin to contract (tighten). Facial skin tightening is noticeable immediately after the treatment, and there is no downtime, making this an increasingly popular procedure. Additional skin tightening occurs over the next few months, but optimal results usually require two or three treatments about a month apart. Laser skin tightening is an FDA approved method for the reduction of fine lines, wrinkles, and skin laxity. While laser skin tightening results may not be as dramatic as those of a face lift, patients enjoy moderate results with no downtime. An added benefit of laser skin tightening is that it is safe and effective for restoring a more firm, youthful appearance to skin all over the body
Who needs this procedure?
Many people notice signs of aging when skin begins to sag around the face and neck. Laser skin tightening is appropriate for men and women of all skin types and skin tones who wish to achieve dramatic results without painful surgery and lengthy recovery times. The most successful laser skin tightening candidates experience permanent results as the collagen under their skin is regenerated, producing a more youthful complexion. Laser skin tightening is a safe, effective way to lessen the effects of time. Using advanced laser technology, the collagen beneath the surface of the skin is heated, causing it to constrict, thus tightening loose facial skin and giving the appearance of firm, youthful skin with less fine lines and wrinkles. Men and women between ages 30 and 60 are ideal candidates for laser skin tightening procedures. As long as you're in good health, laser skin tightening can repair loose facial skin and reduce wrinkles and fine lines all over the body. Patients with extreme skin laxity might consider combining another surgery, such as a face lift, with skin tightening to remove excess skin while diminishing surface wrinkles and rejuvenating the firmness of their healthy complexions. Laser skin tightening is an effective, minimally invasive option for people of all skin types and skin tones.
What is the advantage of this procedure?
As we age, production of collagen and elastin—two proteins that help our skin stay plump, firm and smooth—slows down, resulting in areas of lax, sagging skin on the face, neck and body. If you are bothered by skin laxity, non-surgical skin tightening can temporarily halt this process and restore a firmer, smoother, more youthful appearance with little to no downtime. Benefits of non-surgical skin tightening.
Tightens mild to moderately loose skin on the face, neck or body without surgery or scars,Many treatments can provide a noticeable "lifting" effect,Little to no downtime is needed,Very low risk of adverse effects when performed by a qualified provider.
Treatments can be performed in-office, typically in 1 hour or less. Results can last up to 1 year.
Are there non-surgical treatments?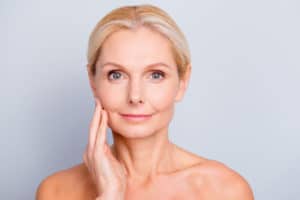 Some skin tightening treatments use focused ultrasound energy, which heats skin at specific depths and locations to induce collagen production and help skin become firmer. Treatments are delivered via a handheld device, which transmits the ultrasound waves through the skin's surface. Ultrasound technology has been used in medicine for many decades, and ultrasound skin tightening has an excellent safety profile.
Ultherapy, the most widely used name brand, is FDA cleared to treat the brow, chin, neck and chest Best for patients who want to treat early signs of aging on the face and neck Can help postpone need for facelift surgery, Treatments take 30 to 90 minutes, with no downtime, Patients may experience temporary discomfort while the ultrasound energy is being delivered. Side effects are typically mild and include temporary redness, bruising, and numbness. Results are seen within 2 to 3 months and can last up to a year with good at-home skincare.
Radiofrequency (RF) treatments
Radiofrequency (RF) energy can also be used to heat the skin and trigger collagen production. In contrast to ultrasound, RF focuses on epidermal layers to achieve a firmer, smoother appearance cleared options can treat the face, neck, hands, and body. Treatments can be performed in-office, typically involve little to no discomfort, and require no downtime. Most RF-only treatments are safe for all skin types,Some procedures are considered "subdermal" and require one very small incision using local anesthesia,Results appear gradually over several months following treatment, A series of 2 to 6 treatments may be recommended for optimal results
IPL/RF combination treatments
A third class of skin tightening treatments combine intense pulsed light (IPL) with radiofrequency (RF) to heat deeper layers of skin and induce the natural healing response, which in turn triggers collagen production. The addition of IPL allows a provider to treat skin at multiple levels and can help focus the RF energy for more effective treatment. Treatments can be performed in-office with little to no downtime
Patients typically experience little to no discomfort. Results appear gradually as the skin produces new collagen. A series of treatments may be recommended for optimal results.
IPL treatments may not be suitable for darker or tanned skin
What is the surgical treatment like local or sedation?
A topical anesthetic is a local anesthetic that is used to numb the surface of a body part. They can be used to numb any area of the skin as well as the front of the eyeball, the inside of the nose, ear or throat, the anus and the genital area. Topical anesthetics are available in creams, ointments, aerosols, sprays, lotions, and jellies. Examples include benzocaine, butamben, dibucaine, lidocaine, oxybuprocaine, pramoxine, proparacaine, proxymetacaine, and tetracaine (also named amethocaine)
What is the recovery like?
After laser skin tightening, results will be immediately visible, and the rejuvenating effects of increased collagen production will become markedly more noticeable in the months following treatment. Immediately after treatment, patients may notice that the affected skin is red and slightly warm, but this usually resolves itself within a few hours. Since treated skin is especially delicate, most laser skin tightening practitioners recommend that patients protect the treated area with sunscreen for at least two weeks following their treatment. Permanent negative side effects of laser skin tightening are very rare, and patients who experience prolonged redness, swelling, or any other disturbance to the treated skin are advised to contact their doctor.
How long does it take?
As far as non-invasive treatments go, Skin Tightening really does deliver. The treatment itself only lasts for approximately 30 minutes, and there is virtually no recovery time post-treatment. So you could definitely walk in and out of the clinic in your lunch break.
Skin Tightening involves the use of single-wavelength light energy emitted via a laser to firm and improve skin tone, skin plumpness and texture. The treatment works to stimulate the production of new collagen cells by gently heating the dermis (the inner-layer of your skin) and causing collagen contracture, or in other words, the tightening of your skin. The heat metabolises older collagen within your skin, making way for new fibres that are more compact and organised, resulting in less wrinkles.
Before beginning skin tightening treatments, it's essential that your skin hasn't experienced sun exposure, or fake tan, two weeks prior to your appointment.
What are the complications?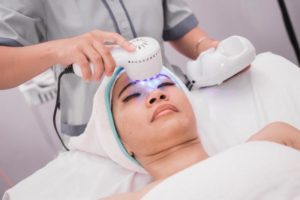 There are very few risks associated with laser skin tightening, as it does not require surgery, but it is important to find an experienced doctor who can advise you based on your individual needs. Laser skin tightening is safe for men and women of all skin tones who are in good health and desire firmer, more youthful-looking skin. Side effects are temporary, and may include skin sensitivity (warming or stinging on treated areas), bruising, and changes in skin color, but these symptoms quickly subside. Patients prone to herpes breakouts or people who have skin cancers should consult their doctors about additional medical considerations. Pregnant women should not receive laser skin tightening treatments. Patients who scar easily and develop keloids, and people using acne medications should discuss the chance of adverse reactions to skin tightening with their doctor prior to the procedure.
What can you do to speed up recovery?
Although some dermatologic surgeons perform laser resurfacing, these procedures aren't classified as surgeries. You can leave your doctor's office immediately following the procedure. Still, downtime and recovery are necessary to make sure your skin heals properly. This reduces your risk for side effects and helps you achieve the desired results. You'll also need to adjust your daily skin care routine. According to the ASPS, you'll need to clean the treated area two to five times per day. Instead of your usual cleanser, you'll use a saline or vinegar-based solution recommended by your doctor. You'll also need to use new dressings to ensure your skin stays clean. A daily moisturizer can also help with the healing process, but be sure to run this by your doctor first. Your skin may be sun sensitive for up to one year following each laser skin resurfacing procedure. Wearing sunscreen with a minimum SPF of 30 can help reduce your risk for sunburn and sun damage. You should apply sunscreen every morning (even when it's cloudy) to protect your skin. Make sure to reapply as needed throughout the day.
Do you need to rest up afterwards and for how many days?
There is no downtime necessary for laser skin tightening recovery; in fact, patients can return to work or play immediately following a laser skin tightening treatment session. The most common visible side effect of laser skin tightening is mild redness, and this can be safely hidden with a little make-up and should resolve itself within hours of treatment. Patients should not experience any pain during or following laser skin tightening; however, any discomfort can be treated with over-the-counter pain medications. Patients may experience mild swelling, bruising, and/or redness after their procedure. If they occur, then swelling or bruising can up to last 1-2 weeks. Redness typically resolves within a few hours. Many patients will feel like resuming their normal activities later that day or the next day. Results from skin tightening procedures which work on collagen stimulation can often take at least 3-6 months to see their effect. The number of treatments required will vary based on device used, area treated, energy source and level, condition being treated, age of patient, and individual patient characteristics.
For more information, please contact us today.
Before & After Gallery