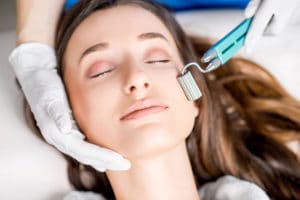 Because it's minimally invasive and doesn't cause significant wounding of skin, virtually anybody can safely undergo microneedling therapy. Even those with thin skin can undergo treatment since the depth of penetration can be finely controlled. Microneedling involves the use of a mechanized device that features a series of tiny needles that penetrate the top layers of the skin. The procedure is not painful because the needles are very short and only cause a mild "prickling" sensation as they superficially puncture the skin's epidermis. These controlled "micro-injuries" rejuvenate by catalyzing the skin's own natural healing response and rebuilding the skin by encouraging the production of new collagen and elastin – smoothing texture and reducing fine lines and wrinkles. Microneedling also may also be used to create "micro-channels" for deeper absorption of topical skin care products, such as Vitamin C skin serum or Platelet Rich Plasma (PRP) treatment.
Microneedling is a relatively simple and fast method for safely treating fine lines, wrinkles, and scars. Because the epidermis remains intact, the procedure can be repeated safely and is also suited to regions where laser treatments and deep chemical peels are not typically performed, such as around the eyes and mouth, hands, and chest. This makes microneedling a preferred treatment for nearly everyone. Microneedling is a minimally invasive cosmetic procedure that's used to treat skin concerns via collagen production. Also known as collagen induction therapy, this treatment may help those looking to reduce the appearance of acne scars and stretch marks.It's also used in certain anti-aging procedures, such as eyelid surgery and sun spots. Microneedling isn't effective for hair loss, despite the possible role of collagen in hair growth.
You may be an ideal candidate for this procedure if you're in good health and have certain skin concerns that haven't responded to home treatments or other types of dermatologic procedures, such as peels.Though treatment is relatively painless we typically start by applying a topical anesthetic cream twenty to thirty minutes before the procedure. This allows for a comfortable experience for most people. Generally, patients report feeling just the slight vibration of the device during the procedure. In one study of microneedling used to treat acne scars. The total treatment time depends on which part of your body we are treating. For the face, a typical appointment takes about an hour.
This may also be a final step before considering cosmetic surgery for anti-aging and other concerns.Microneedling is most often used on your face to target:
acne scars
age spots (also called "sun spots")
fine lines and wrinkles
large pores
other types of scarsTrusted Source
reduced skin elasticity
uneven skin tone
In addition to facial concerns, microneedling is sometimes used to treat stretch marks in other areas of the body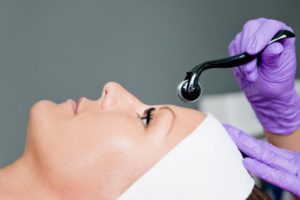 Scarring on other body parts may also be treated with this procedure. However, microneedling is primarily used on the face. When scheduling your procedure, it is important to remember that while you may see results after one session, it is generally recommended that microneedling be completed in a series of 3-5 treatments every 4-6 weeks, followed by a maintenance program. The frequency of treatments depends upon the desired effect and needle length used. Your skincare professional will work with you to design a treatment plan specifically for your skin
The medical community generally considers microneedling to be safe and effective, but there are still some risks.The primary risk is skin irritation after the procedure. Other side effects could include:
swelling
discomfort at the site
redness
bruising
dryness
flaking of the skin
Bleeding is an uncommon reaction to microneedling, though it may be more likely to occur after a deeper treatment.
Minimal to no downtime is needed. It is a non-invasive procedure; no surgery, no injections, no recovery time. You may experience some redness or swelling up to 24 hours.A topical anesthetic is applied to your skin prior to micro needling treatment to reduce discomfort. We may also use a "dental block" to provide additional anesthesia to more sensitive areas of your face, such as the mouth. After treatment, you will feel a mild "sunburn" sensation that subsides over the next few hours. There is cosmetic downtime associated with this procedure, and the duration depends on the type of treatment and your skin's own tolerance. Typically you will experience redness and mild swelling for 24-48 hours after the treatment, followed by some slight peeling. You may wear makeup again after 24 hours. You can usually return to work and social activities after a few days. Results vary from client to client. They can last up to 12 months or more based on the client's natural aging process.