What is Restylane?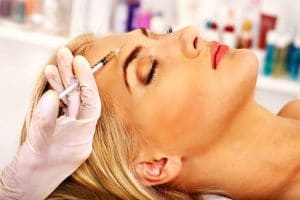 Restylane is an FDA approved dermal filler made of biodegradable non-animal stabilized hyaluronic acid, which is a natural substance already existing within the body. Hyaluronic acid gives our skin the hydration, fullness, and elasticity that we know and love, but it begins deplenishing with age. Restylane is formulated as a transparent gel which is then injected beneath the skin's surface to provide volume and fullness that has been lost with time.
What is a dermal filler?
Both forms contain the same active ingredient in the same formulation, but they are labeled with different Indications and Usage. With that being said, it is important to note that adverse reactions observed with the use of BOTOX® Cosmetic also have the potential to be observed with the use of Botox.
Furthermore, BOTOX® Cosmetic and Botox are not interchangeable with other preparations of botulinum toxin products.
What is it used for?
Dermal fillers are a form of facial injections used to restore fullness and volume by reducing one's wrinkles and fine lines. As we age, our skin loses elastin, collagen, and hyaluronic acid, resulting in increased wrinkles and fine lines. Dermal filler, such as Restylane is meant to correct these wrinkles, folds, and fine lines and give the skin fullness and volume it once had. Dermal fillers are also used to add fullness, volume, and smoothness to a person's lips.
Are there different types of Restylane?
Yes, Restylane® is also a brand of dermal filler products. These products include:
Restylane – Adds volume and fullness to the skin to correct moderate to severe facial wrinkles and folds. Commonly used on the nasolabial folds (lines from your nose to the corners of your mouth). Restylane may also be used for lip augmentation.
Restylane Silk – Composed of a gel that is smoother and smaller than the other Restylane products, resulting in a softer, more precise result. This filler is the filler of choice for restoring and enhancing the lips. It is also the first FDA-approved product made specifically for subtle lip augmentation and the smoothing of wrinkles around the mouth.
Restylane Lyft – Corrects volume deficit in the back of the hands, used for cheek augmentation, and to correct age-related midface contour deficiencies. It also may be used for the treatment of moderate to severe facial folds, such as the nasolabial folds, also known as smile lines.
Restylane Refyne – Works with your skin to smooth out the lines that run alongside the corners of your mouth, also known as nasolabial folds and marionette lines. This form of Restylane allows flexibility for natural-looking movement and expressions
Restylane Defyne – Designed to work like your body's own hyaluronic acid to smooth out deeper lines around your mouth allowing for a natural range of facial expressions.
During your consultation, your surgeon will discuss with you your goals and realistic expectations and from there, you will both decide on the Restylane that best suits you.
What is it used for?
To diminish the wrinkles, fine lines, and folds of the face that appear with age.
How does it work?
Restylane is formulated as a clear gel and is used to correct moderate to severe wrinkles and folds. Upon being injected beneath the skin's surface, Restylane gel integrates into the dermal tissue and then attracts and binds to water molecules to help the skin maintain volume. Restylane is gradually broken down by the body's own mechanism and disappears without any residue. Lidocaine is added to the Restylane to decrease the pain and discomfort typically present during and after the injection.
What is the difference between Restylane and Radiesse?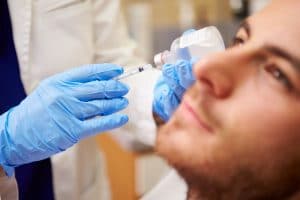 Restylane is commonly used for more moderate wrinkles and lines, whereas radiesse is used to treat deep furrows and add volume to parts of the face that appear to have been "hollowed out"." Both injections are available at Soma Surgery Center!
How long has this injection been around?
Restylane injections have been around for about 20 years, but became FDA approved for use on the hands and face in 2003. Radiesse was FDA approved in 2006 for severe wrinkles.
Who may benefit from this injection?
Restylane is popular among individuals wanting fuller, smoother lips and/or individuals looking to regain the fullness and volume in their face and hands that may have been lost with age. Radiesse is commonly used among individuals with more severe lines and furrows in their face.
Who should avoid this injection?
Restylane should not be administered to individuals who:
Are under 22 years of age
Are pregnant, trying to become pregnant, or breastfeeding
Have a history of bleeding disorders
Have taken blood thinners recently
Have serious allergies, especially to gram-positive bacteria
Have an allergy to lidocaine
Do I have to be a certain age to get this injection?
Yes, this injection should not be administered to patients under 22 years of age. Wrinkles and fine lines appear for a variety of reasons; age, environment, genetics, and so on, but when considering this injection, it is important to have realistic expectations and understand that aging is an inevitable part of life.
Is this considered surgery?
Does this injection require any preparation?
Talk to your surgeon at Soma about any medications you are taking before receiving your injection. Aside from that, there are no special preparations required for this injection.
How long does the injection take?
It varies and is dependent upon the amount of product used, the correction being done, and the degree of correction necessary – injections could take up to an hour. Additional injections may need to be scheduled to achieve the desired look of the individual.
Will it hurt?
Everyone's pain threshold is different. A provider may give you an ice pack or topical anesthetic to numb the area and ease discomfort. Lidocaine is added to the Restylane to decrease overall pain and discomfort during and after the injection.
How will I feel after the injection?
Patients may notice a bit of discomfort following the injection, but it should resolve by the next day. There is minimal recovery, so a patient may return to their usual daily routine once they leave the provider's office.
Activity
A cold compress may be used immediately after the injection to decrease swelling and discomfort
Do not touch the injection site for at least 6 hours following the procedure
You may wash the injection sites with gentle soap and water
Avoid exposing the injection site to intense heat until redness and swelling has resolved completely
Medicines
Providers will not typically prescribe a medication for this injection
No blood thinners- aspirin, non-steroid anti-inflammatory drugs (NSAIDs), Vitamin E, following the injection. This increases your risk for bleeding and bruising
Speak with your doctor about continuing your medications
How long after my first injection do I have to wait until I can get more injections?
It varies, but some patients require multiple treatments. Your provider will determine how far apart the injections will be based on your body's unique needs, your goals, and how well you are healing.
What are the complications?
Complications vary depending on the individual and the site of the injection. Complications include but are not limited to:
bruising
pain/soreness
swelling
hyperpigmentation
Injection site scabbing
infection
hardness/nodules
allergic reactions and/or itching
headache
Impaired hand function
What is recovery like?
Everyone heals differently and has unique requirements to aid them in their recovery. You can return to your normal daily routine as soon as you leave the providers office.
Listen to Your Provider
Follow your provider's instructions, they will give you written instructions to refer to should you have questions, but if anything is alarming you, do not hesitate to contact your provider.
Listen to Your Body
Listen to your body – if something doesn't feel right after the injection, discuss it with your provider right away.
Use Cold Compresses
You may experience a bit of discomfort after the injection, so an ice pack or cold compress can be used to help ease the discomfort/pain and decrease the swelling.
Get Plenty of Rest
This injection will not require you to take off from work, but rest is always a vital part of the recovery process.
Avoid Vigorous Exercise
Wait until the following day, a full 24 hours before resuming your normal exercise activities.
Avoid Aspirin & Blood thinners
Don't be tempted to use aspirin as a painkiller. It thins the blood, and this can make bleeding and bruising more likely. For this reason, aspirin should be avoided for one week before and after the injection. Vitamin E supplements and Ibuprofen and Motrin should also be avoided for the same reason.
Other Medications to Avoid before and after the injection
St. John's Wort
NSAIDs (non-steroid anti-inflammatory drugs)
Be sure to let your provider know exactly what medications you are taking before receiving Restylane injections.
When will I see results? How long will they last?
You may notice visible results immediately, with results lasting months. It varies on the individual as well as the type of Restylane injected and the location of the injection.