What is this procedure?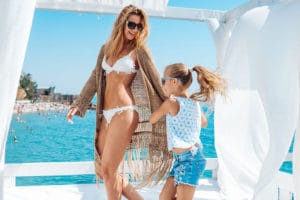 The goal of a mommy makeover is to restore the shape and appearance of a woman's body after childbearing. Many women notice changes in their bodies post-pregnancy.
There are many areas of the body that can be addressed, most commonly the breasts, abdomen, waist, genitalia and buttocks. A mommy makeover is typically performed as a single stage procedure.
There are many techniques used to perform a mommy makeover, and many factors should be taken into consideration when choosing which techniques are best:
Desired amount of restoration
Placement of the incisions
Type of implant used
Possible procedures in a mommy makeover
Breast augmentation
Breast lift
Buttock augmentation
Liposuction
Tummy tuck
Vaginal rejuvenation
Who needs this procedure?
Mommy makeover surgery is a highly individualized procedure. You should do it for yourself, not to fulfill someone else's desires or to try to fit any sort of ideal image.
You may be a candidate for mommy makeover surgery if:
You are in good medical health
You are at your ideal body weight
You have a positive outlook and realistic expectations
You are finished with childbearing
The best candidates for a mommy makeover are in good overall health and at a stable weight. A mommy makeover is a good choice for you if you want to enhance your figure after pregnancy and childbirth. Most women who seek a mommy makeover want to smooth and tighten their stomach area and augment or lift their breasts. Labiaplasty is also a common procedure in a mommy makeover.
What is the advantage of this procedure?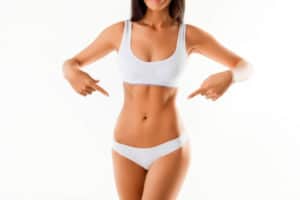 You need some help to get back in shape. Let's face it: child bearing is probably the most difficult thing that any woman's body will have to go through. Your body balloons in weight, and your skin expands to cover the extra girth – a girth that after the baby arrives is just no longer there. Breast feeding a child can cause your breasts to inflate and then deflate, often leaving them flat or out of shape.
Whatever your issues, a Mommy Makeover can leave you feeling restored, refreshed and looking your best. Liposuction after pregnancy can get rid of those last pockets of fat that were easy to add and impossible to make go away. A tummy tuck after pregnancy will remove all of the extra skin on the front of your abdomen, and leave you a smooth, lean exterior to match your reduced body mass. And a breast lift after pregnancy will restore your breasts to their pre-pregnancy shape.
Are there non-surgical treatments?
As you may well know, there are also a number of completely nonsurgical beauty treatments offered by plastic surgeons these days. You can consider a nonsurgical, no-anesthesia mommy makeover and still be able to achieve noticeable results, with little discomfort and downtime.
If you're considering this route, a few options might be:
CoolSculpting: This nonsurgical liposuction alternative can reduce the appearance love handles, back rolls and other pesky pockets of fat.
Botox injections and dermal fillers: Treat facial wrinkles and folds with these long-lasting wrinkle reduction injectables.
Cellfina cellulite reduction: Cellulite is a common problem for millions of women, and many moms find that their cellulite is more noticeable after having kids.
Vaginal rejuvenation: Nonsurgical feminine rejuvenation treatments for vaginal laxity, such as Viveve™, can help moms feel much more confident in intimate settings.
What is the surgical treatment like local or sedation?
Going under anesthesia can be one of the more anxiety-inducing parts of any surgical procedure. Thanks to anesthesia, you don't feel discomfort during surgery – and with current technology, anesthesia is incredibly safe. Understanding what your options are and what to expect can help ease your mind.
Anesthesia is a medication that is given under the supervision of a certified anesthesia provider to avoid feeling discomfort during surgery or a medical procedure. Deciding which anesthesia option is best depends on what procedure you are having performed. If the procedure permits it, many people prefer being awake during the procedure, while others insist on not being awake. In the context of a mommy makeover, most procedures will require general anesthesia. However, some less-invasive procedures may be performed with local anesthesia or even no anesthesia at all.
General Anesthesia
General anesthesia causes you to be completely unconscious and unable to feel discomfort or remember anything during your surgery. A certified anesthesia provider administers medicine intravenously or by using a mask for inhalation, then once you are unconscious, they constantly monitor your vitals including your heart rate, blood pressure and breathing throughout the surgical procedure.
General anesthesia is optimal for people who do not want to remember a procedure. Procedures that require general anesthesia typically have a longer recovery time right after surgery, since you'll need some time to emerge from your unconscious state and continued monitoring for a few hours to make sure vitals are stable.
Almost all plastic surgeons will only perform surgical mommy makeover procedures with the patient under general anesthesia. While there are some surgeons who may perform individual surgeries such as breast augmentation or liposuction using just IV sedation with a local anesthetic, a mommy makeover is a more complex surgery involving several areas of the body and as a result, it is safer and more prudent to have the patient under general anesthesia.
IV sedation and local anesthesia
If you really want to avoid general anesthesia, your mommy makeover options most likely will be more limited. Some less-invasive procedures may use IV sedation, also called "twilight sedation" and "conscious sedation," paired with local anesthesia of the treated area. IV sedation is also administered by a certified anesthesia provider intravenously, but you breathe on your own so there is no need for a breathing tube.
When utilizing IV sedation an individual will be sedated but awake. They should not feel or remember discomfort, and the addition of localized anesthesia should numb the affected area and keep them comfortable during and after surgery. Just like general anesthesia, the anesthesia provider continues to monitor your vitals throughout the procedure.
How long does it take?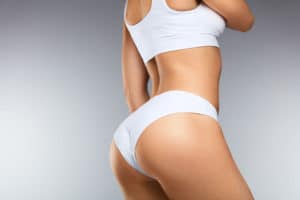 Step 1 – Anesthesia
Medications are administered for your comfort during the surgical procedure. The choices include intravenous sedation and general anesthesia. Your doctor will recommend the best choice for you.
Step 2 – Surgical procedures
The steps for the various procedures that could be a part of your individualized mommy makeover surgery can be found below:
Buttock augmentation
Liposuction
Tummy tuck
Vaginal rejuvenation
Mommy makeovers typically take between 3-6 hours to complete based on the type and number of procedures that make up your mommy makeover. Sometimes the surgeries are done in stages with time to heal between each one. However, it is preferable to have the surgeries done on one day when possible, so you can have dedicated time off work and caretaking during your one healing phase.
What are the complications?
The decision to have mommy makeover surgery is extremely personal. You'll have to decide if the benefits will achieve your goals and if the risks and potential complications are acceptable.
Your plastic surgeon and/or staff will explain in detail the risks associated with surgery. You will be asked to sign consent forms to ensure that you fully understand the procedures you will undergo and any risks or potential complications.
The possible risks of mommy makeover surgery include, but are not limited to, bleeding, infection, poor healing of incisions, hematoma, seroma, loss of nipple sensation, inability to breast feed, implant leak, capsular contracture, anaplastic large cell lymphoma, unfavorable scarring, recurrent looseness of skin, fat necrosis, deep venous thrombosis, cardiac and pulmonary complications, asymmetry, persistent pain, contour deformity, fat embolization and anesthesia risks.
Just like any surgery, mommy makeovers carry risks like bleeding, infection, tissue death (also called necrosis), and DVT. Remember that although these risks are serious, they are also rare. Additionally, mommy makeover risks can be reduced substantially by the techniques your surgeon uses, and their attention to detail. One of the mommy makeover risks patients are most interested in is scars. Some mommy makeover procedures have long scars, such as a tummy tuck, while others have much less noticeable scars, like a breast augmentation. No matter what type of scar you're asking about, half of your scar's appearance will depend on your biology, and the other half will depend on the methods used in closing your mommy makeover incisions.
What can you do to speed up recovery?
Following your mommy makeover surgery, gauze or bandages will be applied to your incisions. An elastic bandage or support bra will minimize swelling and support the breasts. A compression garment may also be used to control swelling in the abdomen, waist and buttocks.
You will be given specific instructions that may include:
How to care for your surgical site(s) following surgery
Medications to apply or take orally to aid healing and reduce the risk of infection
Specific concerns to look for at the surgical site or in your general health
When to follow up with your plastic surgeon.
Be sure to ask your plastic surgeon specific questions about what you can expect during your individual recovery period:
Where will I be taken after my surgery is complete?
What medication will I be given or prescribed after surgery?
Will I have dressings/bandages after surgery? When will they be removed?
Will there be drains? For how long?
When can I bathe or shower?
When can I resume normal activity and exercise?
When do I return for follow-up care?
Healing will continue for several weeks as swelling decreases and the shape of the breasts, abdomen, waist, genitalia and buttocks improves. Continue to follow your plastic surgeon's instructions and attend follow-up visits as scheduled.
Do you need to rest up afterwards and for how many days?
While mommy makeovers can vary in the specific procedures and accordingly recovery time, the cornerstone of any mommy makeover is a tummy tuck. With a tummy tuck, it takes about two weeks before a patient can return to a sedentary job and resume light housework. At six weeks out from the operation, you can typically start increasing your activity level and most patients are back to their regular activities by 3 months. The more work that is done during a mommy makeover surgery, the longer you can expect your initial recovery phase to be. You will not be able to lift during the initial phases of recovery, so it's important to make sure you have help around the house while you heal.
Before & After Gallery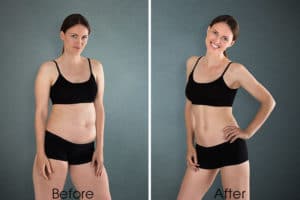 Body Procedures