Dr. Sean Ravaei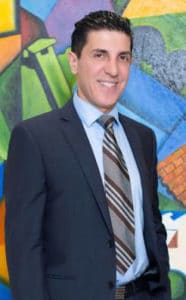 Dr. Ravaei is a former Chief of the Department of Podiatric Surgery at Saint Joseph's Hospital, where he was named 'Best Teaching Attending' by students and residents for two consecutive years. Dr. Ravaei graduated from Temple University in Pennsylvania and then went on to post-doctoral work at Eglin Air Force Base in Florida and Cooper University Hospital in New Jersey. He has performed more than seven thousand surgical procedures, is licensed in four different states, and is certified by the American Board of Podiatric Medicine.
While many foot surgeons concentrate on correcting foot problems without considering the way they look, Dr. Ravaei prefers a more holistic approach. As someone who loves outdoor pursuits, he realizes just how difficult life can be when foot or ankle problems get in the way. If, like Dr. Ravaei, you love to rollerblade, hike, ride your bike, run, or just spend time at the beach, you need feet that are more than simply functional, you'll want your feet to look good, too. As a highly experienced foot specialist, Dr. Ravaei's surgical techniques are designed to be minimally invasive. This reduces patient discomfort and helps you heal faster. If you're unhappy with the way your feet look, cosmetic surgery is his specialty.
Dr. H. Joseph Naim
Dr. H. Joseph Naim received his Bachelor of Science in Biology from University of Southern California in Los Angeles, and received his Medical Degree from Mount Sinai School of Medicine in New York City with a distinction in Research. He completed his residency in General Surgery at New York Methodist Hospital in Brooklyn, N.Y., where he was Chief Resident during his final year. Dr. Naim completed his Fellowship in Minimally Invasive General Surgery at University Medical Center at Princeton, N.J., under the direction of world renowned surgeon Robert E. Brolin, MD.
Subsequently in 2004 he started his practice in the Los Angeles area. His love in field of general surgery took him to UCI Medical Center, as Clinical Assistant Professor of Surgery where he was teaching other surgeons in cutting edge surgical techniques. He is an author of multiple scientific articles.
He is a member of Multiple Surgical Societies including American Society of Metabolic and General Surgery and is a member of Medical Staff in some of the best hospitals in United States including Cedars-Sinai Medical Center.
His expertise includes:
Abdominoplasty, brachioplasty, hernia repairs, and body contouring procedures
Upper body procedures, such as a breast lift or brachioplasty (arm lift)
Mid-body procedures, such as an abdominoplasty (tummy tuck)
Lower body procedures, including a thigh lift and buttocks lift
Dr. Joseph Naim has performed over 3,000 surgery procedures. His practice, provides treatment with minimized risks and successful outcomes thanks to advanced technology and a highly trained staff. Many patients have achieved life-changing and long-lasting results with procedures performed by Dr. Naim.