Gummy bear implants consist of an outer (silicone) shell and a filler material (usually made up of a saline or silicone gel solution). These innovative and comfortable implants were FDA-approved in 2013 and have since revolutionized the world of breast augmentation with their natural shape and longevity.
Read on to learn more about what gummy bear implants are, how they compare to traditional implants, and their pros and cons. Or, to schedule a breast augmentation consultation, contact Soma Plastics today to speak with one of our professionals.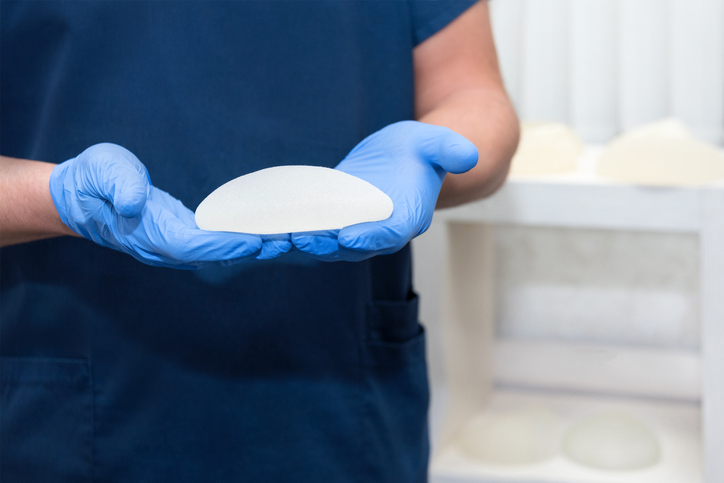 Gummy Bear Breast Implants vs. Other Breast Augmentation
When it comes to gummy bear implants versus traditional silicone implants, the primary difference is that gummy bear implants generally have a thicker gel than traditional implants.
For this reason, gummy bear implants hold their shape longer and better than traditional implants. They're also engineered to look and feel like natural breasts.
Pros & Cons of Gummy Bear Breast Implants
The following two sections list some of the biggest pros and cons of getting gummy bear breast implants in order to guide you towards the best decision for you.
5 Benefits of Gummy Bear Breast Implants
A more natural (teardrop) breast-shape.
Sustained natural shape (gummy bear implants hold their shape for a longer period of time than traditional implants).
Gummy bear breast implants are less likely to leak than traditional implants.
Studies indicate that there is a reduced risk of capsular contracture (a reaction from the body towards foreign materials which can lead to additional complications) with gummy bear implants.
Gummy bear implants are less likely to ripple or fold.
3 Cons of Gummy Bear Implants
In general, gummy bear breast implants tend to be more expensive than traditional implants.
The incision made for gummy bear implant insertion is slightly larger than the one made for traditional implants.
Getting gummy bear implants still carries with it all of the same risks (though some might be slightly less) that traditional implants carry (i.e. the risk of infection, capsular contracture, difficult recovery, etc.).
Reasons To Consider Gummy Bear Breast Implants
Who might be a good candidate for gummy bear breast implants?
There are many reasons why women consider getting breast augmentation, some for comfort and others out of absolute necessity. If you're curious as to whether or not gummy bear implants might be for you, here are some scenarios in which you might consider this type of implant.
To reduce the appearance of breast asymmetry
To create more balanced body proportions
To reconstruct the breasts following a mastectomy
To help clothes fit better
To boost confidence and achieve body aesthetics
To achieve more perky, youthful breasts
Frequently Asked Questions About Gummy bear implants
Making the decision to get implants may be a very intimidating experience. To help you make the best decision for yourself, this section of the blog post provides answers to some of the most frequently asked questions we hear about gummy bear implants.
How Long Do Gummy Bear Breast Implants Last?
While there is no concrete answer on the maximal length of time that gummy bear breasts can last, data seems to suggest that they may last as long as two or more decades.
It's important to discuss longevity and related concerns with the doctor who will be doing the procedure as they will be able to provide you with the most current information.
What Is Recovery For Gummy Bear Implants Like?
In general, women will need to take several days to a week off from work following a breast augmentation procedure. After those initial recovery days, they may be able to return to work but must still limit their physical activity and avoid lifting heavy items.
During recovery, a woman may experience moderate pain and swelling that gradually lessens over time. Although each woman's recovery is different, on average, full recovery takes six weeks.
Please speak with your surgeon if you have any concerns about the length of your recovery.
What Are the Types of Gummy Bear Breast Implants?
Gummy bear breast implants may be shaped in a variety of different ways depending on the look that you want to achieve. Gummy bear implants can be round, but the most popular shape is the "teardrop," which creates the most natural breast appearance.
What Types of Implants Are Best For Me?
When it comes to deciding between traditional saline, silicone, or gummy bear implants, this decision is dependent on your budget and personal preferences.
While traditional saline and silicone implants tend to be more budget-friendly than gummy bear implants, they also come with slightly higher risks of ruptures and don't have quite as natural of an appearance.
In the end, you should choose the implants that you think are the best fit for your specific needs.
Can I Get Gummy Bear Breast Implants Removed?
In the event that you experience any complications or decide that you no longer want your implants, you may have your gummy bear breast implants removed by a qualified medical professional.
While complications and dissatisfaction are not common occurrences, it's still possible that you may experience one or both of these and want your implants removed. In this event, you should be able to have them safely removed without further complications.
Get In Touch With a Breast Augmentation Studio Today
If you are ready to make the decision to improve your confidence, achieve your body goals, or as a reconstructive means, get in touch with Soma Plastics today.
Here at Soma Plastics, we believe in offering each of our patients a premium experience at our clinic. We provide a number of breast augmentation and breast lift services to assist our patients in achieving greater self-confidence and body positivity.
We have a team of highly-skilled and educated doctors who are passionate about providing premium services to our patients. Our resident breast augmentation experty, Dr. H. Joseph Naim, has been working in the medical field for nearly twenty years and has established himself as Beverly Hills' go-to breast lift physician.
Contact Soma Plastics today to get in touch with our team of medical professionals and caring staff to discuss your breast implant needs.