If you're searching for a permanent solution to unwanted hair, laser hair removal is the perfect option. Waxing, shaving and other hair 
removal methods are painful, irritating and don't offer permanent relief. By using laser treatment, you can rid yourself of dark hair in targeted areas.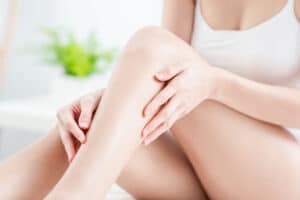 Body hair is often unpredictable. Changes in hormones, medication and puberty can all result in unwanted hair growth. By targeting hair follicles with laser procedures, you can combat unattractive hair growth without the need for constant maintenance.
At Soma Plastics, we offer the most trusted laser hair removal in Beverly Hills, CA. Our team of highly trained hair removal specialists is eager to help you find a permanent solution for unnecessary hair. Contact our office if you're ready to discuss this highly effective procedure.
How Does Laser Hair Removal Work?
By targeting your hair follicles with a laser, this hair removal technique destroys your follicles' ability to produce new hairs. So how exactly does it work?
The dark hair follicles in your skin absorb the light from the laser, which results in the destruction of the hair follicle. While this process might sound overly invasive, it's actually very straightforward. The preciseness of the laser technology ensures that the follicles are pinpointed without affecting other tissues.
Benefits of Laser Hair Removal
Laser hair removal offers a variety of advantages to our clients. If you're searching for an effective, permanent hair removal technique, laser hair removal is the industry's best option. Let's explore the top laser hair removal benefits:
Extremely Effective:

Laser hair removal has proven to be one of the most effective methods for removing hair from your body. After just a few appointments, you'll notice that hair no longer grows from the targeted area.

Quick:

While laser hair removal often requires multiple appointments, each procedure is extremely quick. Hair removal technicians can cover large surface areas in just a few seconds.

Non-Invasive:

While the procedure removes hair from the targeted region on your body, it won't cause damage to the surrounding tissue.

Reduced Irritation:

Permanent hair removal allows you to avoid razor burn, ingrown hairs, and a host of other issues.

Cost-Friendly:

While the upfront cost of undertaking hair removal can be slightly higher than waxing and other hair removal methods, the long term savings are impossible to ignore. By permanently removing hair, you won't need to pay for long-term removal techniques.
Is Laser Hair Removal Right for Me?
While using a laser for hair removal is one of the most effective ways to remove hair permanently, it's not suitable for everyone. Unfortunately, this procedure isn't effective for light colored hairs.
If you're someone who is attempting to remove light hairs, a laser removal technique is not the right option for you. This is a procedure that is best suited to clients who have dark hair to remove.
For individuals who are unsure if laser hair removal is the best option, it's essential to speak with one of our specialists. We can walk you through the procedure and help you determine if it's an effective option for you. We also provide consultations that can assess your suitability.
How Long Does Laser Hair Removal Beverly Hills, CA Take?
For the best results, specialists suggest multiple rounds of laser hair removal treatment. The treatment's laser is most effective when your hair follicles are active. Due to your hair follicles operating independently, they aren't all active at the same time.
To ensure that all your hair growth is permanently removed, it's essential to target your follicles over multiple sessions. In most cases, this can take at least three appointments.
We typically recommend that these sessions happen over a 12-month period. By spacing out your sessions over a prolonged period, you can increase your chances of destroying all the relevant follicles in your target area. We work with our clients to form effective treatment schedules that are suitable for their needs and commitments.
Drawbacks of Laser Hair Removal Alternatives
While laser hair removal is now a favorite procedure for many men and women in Beverly Hills, this hasn't always been the case. Before this hair removal method was invented, individuals were left to contend with other techniques. Let's look at some inferior alternatives below:
Shaving:

Irritates skin, causes ingrown hairs, and alters the appearance of hair regrowth.

Waxing:

Lasts longer than shaving, but can cause scars, pigmentation issues, and ingrown hairs.

Epilators:

Effective at pulling hair from follicles, but this method can be extremely painful.

Electrolysis:

This hair removal method is extremely time consuming.

Depilatories:

Dissolves hair but doesn't offer long term solutions.
While the above hair removal techniques are effective in the short-term, they can also have long-term consequences. To reduce the hassle and pain of removing hair, using a laser-based method is an excellent option.
Laser Hair Removal Services Near Me?
If you're searching for 'laser hair removal services near me,' you've come to the right place. Our team at Soma Plastics offers the most reliable hair removal services in Beverly Hills, CA. We partner with clients throughout the region to provide professional hair removal services.
If you're searching for a local team that's trusted by men and women throughout Beverly Hills, we're the perfect partner. We're invested in helping nearby residents access industry-leading hair removal. Feel free to call our office if you'd like verified testimonials from our clients in Beverly Hills.
Schedule a Laser Hair Removal Beverly Hills, CA Appointment at Soma Plastics
If you'd like more information on laser hair removal in Beverly Hills, contact our team at Soma Plastics. Our experts are always available to answer questions about the benefits of this effective hair removal method.
If you want your laser hair removal session to be as effective and painless as possible, it's essential to partner with a team of specialists that understands the complexities of the procedure. The sooner you contact our office, the quicker you can access the permanent removal of unwanted hair.